Understanding God's World - Abeka Grade 4 4th Edition Science Series
Book Description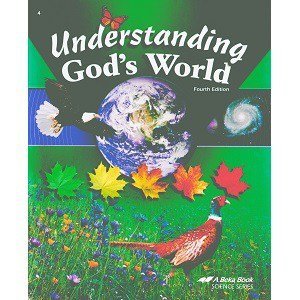 Inspire young students to go out and explore their world as they learn how science gives glory to a Creator God.
This fourth grade curriculum teaches students important science concepts about what they can see, observe, and understand in the world around them. This curriculum focuses upon basic science concepts, and presents God as the creator, sustainer, and upholder. Students will explore primary units on insects, plants, birds, matter, energy, geology, oceanography, astronomy as they learn how to make an insect zoo, how to recognize the plants they see every day, how to attract birds to their own back yards, how to use field guides, how to interpret cloud formations, and how to identify rocks. They'll also learn to appreciate the miracle of plant germination, the causes of weather, the God-given provisions for life on earth, the design of the starry heavens, the ecology of the ocean depths, and much more.
The full-color text features engaging lessons, colorful photographs, "something to do" exercises, comprehension checks, special features, and "chapter check-up" review pages. This course is designed to cover 27 weeks, followed by the sold-separately "Developing Good Health" for the last 8 weeks. Approximately 230 pages.
Book Information
Title: Abeka Understanding God's World, Fourth Edition
Format: Paperback
Vendor: Abeka
Dimensions: 10 X 8 (inches)
Weight: 1 pound
UPC: 10668211
Stock No: WW206682