Language 3 Grammar & Writing Work-text - Abeka Grade 3 5th Edition Language Arts Series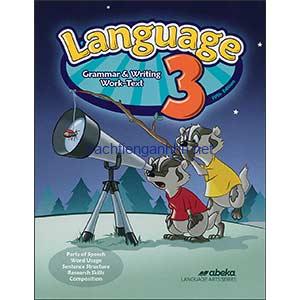 The Abeka Language 3 Grammar & Writing Work-Text, 5th Edition will help students understand parts of speech and how to use them correctly through four themed units: Nocturnal Creatures, Travel Across America, Zoos Around the World, and Space. Concepts covered include capitalization, punctuation, all 8 parts of speech, forming plurals, using contractions, correcting using words like sit/set/sat, diagramming, glossary/dictionary skills, elements of writing (like cause/effect and summarizing), and more. Help your child form a correct understanding of English grammar and mechanics, as well as how to write clearly and succinctly. A variety of exercises are included, such as graphic organizers, proofreading sentences, short answer, fill in the blank, and more.
This worktext is designed to be used alongside the lessons in the Homeschool Language Arts 3 Curriculum Lesson Plans. Answers, Test Book, and Test Key NOT included and all sold separately.
201 pages with glossary, softcover. 5th Edition (2019 Revision). Grade 3.