God's Gift of Language C Writing & Grammar Work-text 3rd Edition Abeka Grade 6 Language Series
Book Description
Language Arts skills are foundational to future academic success. Ensure your children are starting off on the right track with God's Gift of Language C for Grade 6!
This sixth grade student workbook covers grammar, composition, and mechanics in a clear, systematic, and appealing manner. Students will also learn how to research and write a paper, use adjectives effectively, and master troublesome words. Explanations and demonstrations of the writing process provide an effective model for students to emulate.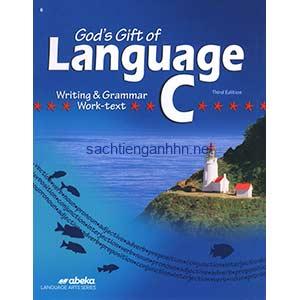 Bound softcover. Grade 6. Approximately 290 pages.
Book Information
Title: Abeka God's Gift of Language C Writing & Grammar Work-text, Third Edition
Format: Paperback
Vendor: Abeka
Dimensions: 11 X 8.5 (inches)
Weight: 1 pound 9 ounces
Stock No: WW157244