Spelling and Poetry 1 Fifth Edition Abeka Language Arts Series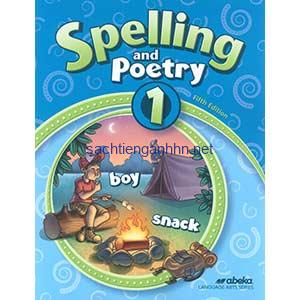 Spelling and Poetry 1 features 30 spelling lists that contain carefully selected phonics-based word lists. Each spelling list has an information box above each spelling list that emphasizes a phonics rule or special sound; each list is followed by three or four fun exercises that include matching, fill in the blank, editing, and multiple choice exercises to help children learn to memorize and spell correctly. This workbook also includes advanced/sight words marked in green, review lists, and age-appropriate poems to help develop a love for poetry and strengthening memorization abilities.
The back section of the book entitled "Homework," features each spelling list and a detachable portion with blanks to copy the corresponding spelling words. Great for review purposes, the homework features each word in cursive and in print for recognition of both styles of writing.
132 pages, softcover. Grade 1. 5th Edition.
Book Information
Title: Abeka Spelling and Poetry 1 (New Edition)
Format: Paperback
Vendor: Abeka
Publication Date: 2016
Weight: 14 ounces
Stock No: WW197076