English File 4th Edition Beginner Workbook Audio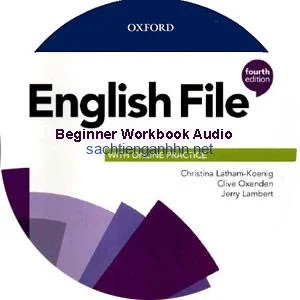 English File's unique, lively and enjoyable lessons are renowned for getting students talking. In fact, 90% of English File teachers we surveyed in our impact study found that the course improves students' speaking skills.
Key features:
-NEW and updated texts, topics and listenings, based on feedback from English File teachers.
-NEW Teacher's Resource Centre allows you to manage all English File resources and teaching materials in one place online.
-NEW video listening activity integrated in to each even-numbered File. These short documentaries and dramas make class time more dynamic and exciting.
-NEW Student's Book Classroom Presentation Tool shows the course content on screen, making it easier than ever for teachers to deliver heads-up, engaging lessons.
-NEW Online Practice provides learners with extra practice activities for each File and allows them to check their progress.
-Online Practice includes new Sound Bank videos, with unique opportunity to watch and listen to a clear model of the English sounds and new interactive videos where students can take part in the Rob and Jenny drama themselves.
-Award-winning Say It app develops students confidence with pronunciation and allows them to see their intonation and stress. Includes English File wordlists and Sounds Bank Charts.
You may also like:
English File 3rd Edition series
New English File courses series
Solutions 3rd Edition series
Solutions 2nd Edition series
Prepare! 2nd Edition series
See more information:
https://elt.oup.com/catalogue/items/global/adult_courses/english_file_fourth_edition