Unlock 4 Reading, Writing & Critical Thinking Student's Book 2nd Edition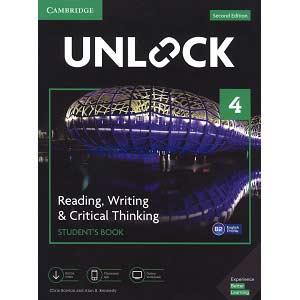 Key Features
- Critical thinking is at the heart of the course, fostering the skills and strategies your students need to tackle academic tasks when gathering and evaluating information, organizing and presenting their ideas, and then reflecting on them.
- All digital content is now available in one place - Cambridge One, our new learning management platform. Resources for students includes: - an eBook (an electronic version of the print Student's Book with embedded audio and video that can be used on mobile phones) - Class audio - Video - Digital Workbook with videos - Digital Classroom Material, offering extra speaking, language and Critical thinking activities to extend the lesson whilst in class.
- The Teacher's Manual and Development Pack supports your teaching with flexible lesson plans, learning objectives and additional activities. The pack is a single manual for levels 1-5 so that every answer key and additional activity are conveniently in one book.
- Self-development material - Build your confidence with the teacher development material on Developing critical thinking skills in your students and become more familiar with Unlock's content and approach using the online course, Teaching with Unlock Second Edition, which can be found on Cambridge One.
- Our multi-billion word Cambridge English Corpus illustrates language as it is really used and highlights the challenges your students might meet with the target language. This ensures the course content is relevant and up to date.
- The course is tailored to your needs and the needs of your students thanks to the extensive market research we have carried out with a global panel of ELT professionals. By listening to the needs of the teacher and student, we have developed a highly robust course.

You may also like:
Unlock 4 Listening, Speaking & Critical Thinking Student's Book 2nd Edition
Unlock 4 Reading, Writing & Critical Thinking Student's Book 2nd Edition
Unlock 1 2nd Edition Series
Unlock 2 2nd Edition Series
Unlock 3 2nd Edition Series