New English File Elementary Student's Book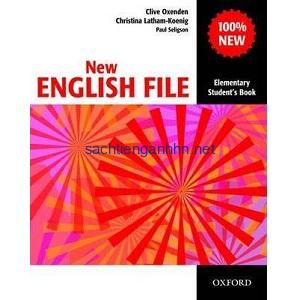 With texts and topics that make learners want to speak, New English File is the course that gets students talking.
It gives you full skills coverage with a clear focus on pronunciation, plus wide-ranging support and resources too.
Resources include iPacks and iTools (for interactive whiteboards), DVDs, MultiROMs, popular websites, plus Online Skills Practice material – completely new for 2011.
Key features
- Great texts that motivate students to talk
- Four-skills syllabus with a clear focus on pronunciation
- Level-specific features to address learners' different needs
- New English File iPacks - digital resources for interactive teaching
- New English File iTools for Beginner and Advanced – new digital classroom resources
- Online support, resources and lesson ideas
You may also like:
Everybody Up 2nd Edition series
English Time 2nd Edition series
Big English 2nd Edition series
SuperKids New Edition series
Our Discovery Island series
See more information:
https://elt.oup.com/catalogue/items/global/adult_courses/new_english_file