My State Notebook - Abeka Grade 4
Book Description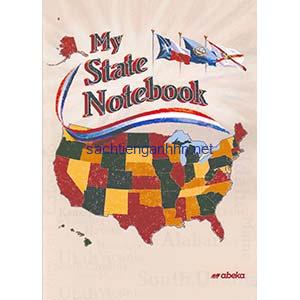 My State Notebook is a preformatted scrapbook which may be used with any state. My State Notebook is published by Abeka. It is offered here for your convenience, but you may purchase this book directly from Abeka if you prefer.
You will need one copy for each student who will be using the My State Notebook option. In a classroom setting, we recommend that you order a teacher copy to be used as a sample.
Guide your child in an in depth study of his state with My State Notebook. Discover your state's flower, motto, bird, song, nickname, seal, and more with the prompts given in the notebook. Record pictures of scenery, historical figures, famous landmarks, and learn about the history of the state capital. Along with discovering facts about his state, your child will also develop research and reporting skills. This detailed project guide promotes creativity and initiative as your child presents the beauty of his state. 83 pages, unbound. Grade 4.
Book Information
Title: My State Notebook (Unbound Edition)
Format: Other
Vendor: Abeka
Weight: 9 ounces
Stock No: WW327409